Purdue University – Construction Engineering and Management (CEM) Division
Coordinated by the CEM UIT (Underground Infrastructure Team) & BAMI-I
During the past few years, Purdue CEM has made a dedicated effort to get engineering students more aware, excited and committed to careers related to underground construction. This is done at the undergraduate and graduate level. This is accomplished through our internship program for undergraduate students which require 3 – 12-week internships before they can graduate.
Purdue is blessed by having both a NASTT and a UCA Student Chapter which work jointly to provide undergraduate and graduate students with maximum opportunity to develop leadership skills and to get them actively involved in all aspects of developing underground space from utilities to large tunnels. Professor Dulcy Abraham is the faculty advisor for our NASTT chapter, and Professor Tom Iseley is the faculty advisor for our UCA chapter. We will have BAMI-I's first Student Chapter soon. Dr. Tom Iseley serves as the chairperson of BAMI-I.
Our major accomplishment during the Fall semester was to take 22 students to Fort Wayne, IN to visit the 3RPORT CSO tunnel. Please contact us for our project report if you are interested. We are very thankful for the financial support provided by UCA of SME.
Our programs at Purdue cannot adequately prepare UC leaders without industry partners. We can do the academic component but that is not enough. Our students are encouraged during their university experience to accomplish the following 3 things:
Do the best job they can academically to get the best grades,
Developed leadership skills by being involved in student chapters, and
Get maximum exposure to the UC industry.
We have accomplished 3 major opportunities to expose students to the UC industry:
Getting 22 students to Fort Wayne, IN to visit the 3RPORT CSO tunnel in 2022.
Getting 30 students to the Underground Construction Technology (UCT) conference on Feb 7-9, 2023 in Orlando, Florida (https://uctonline.com/tag/underground-construction-technology/). Last year our delegation was 25.
Getting 33 students to visit Gordie Howe International Bridge Project construction site in Detroit, MI on March 30-31, 2023.
If you want to learn more about the program and its impact on students, download and read the reports today:
3RPORT CSO tunnel study tour: https://tunnelingonline.com/beavers-uca-provide-support-to-purdue-construction-engineering-and-management-cem/
2023 UCT study tour: https://bami-i.com/wp-content/uploads/2023/04/UCT-2023-student-trip-REPORT_ver.1.pdf
Gordie Howe International Bridge Project construction site visit: https://bami-i.com/wp-content/uploads/2023/04/Beavers-Gordie-Howe-Bridge-Project-FINAL-1.pdf
Purdue CEM would like to express sincere appreciation to UCA and all the affiliated "Down For That" societies (BAMI-I, UCA of SME, ASCE, DFI, Beavers, Moles) and our industry sponsor: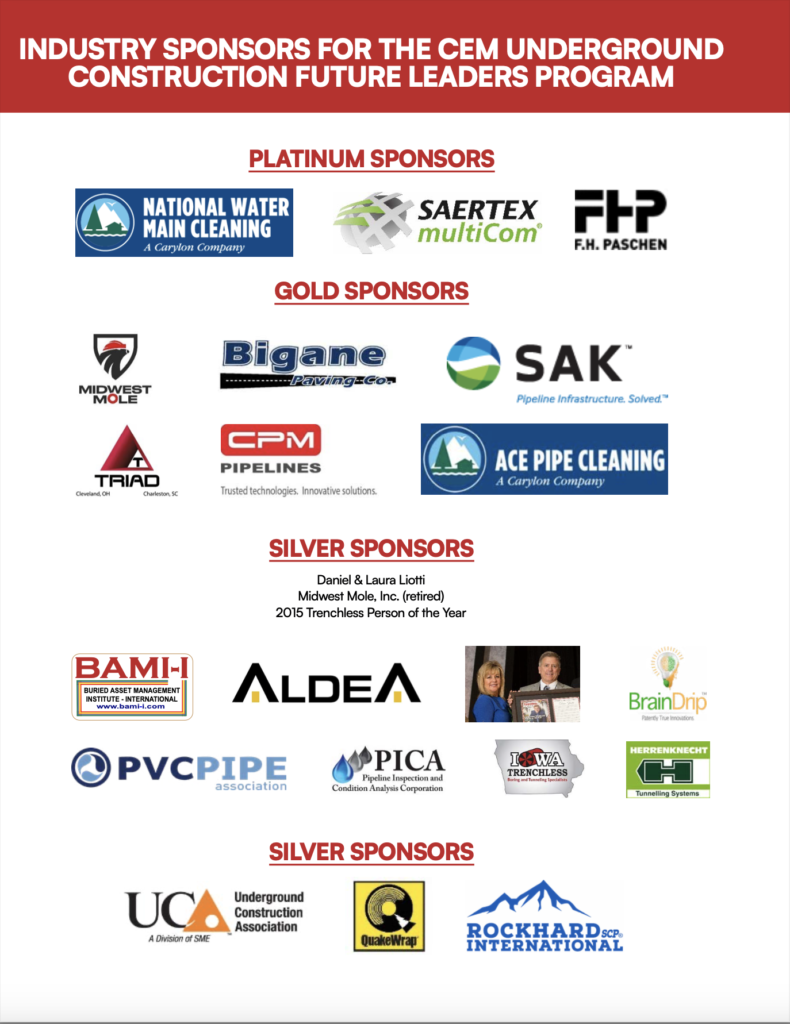 The Beavers is a heavy engineering construction association. It is a social, honorary organization formed in 1955. It was organized and continues to be managed by construction companies and individuals who are or have engaged in heavy engineering construction. The Beavers encourages students to be involved with the heavy engineering construction industry. On October 3 and 4, Dave Woods (Executive Director Beavers, Inc. & Beavers Charitable Trust) and John Bollier (President of the Board of Directors for the Beavers & Stacy & Witbeck, Inc.) visited the division of Construction Engineering and Management (CEM) at Purdue University and met with CEM students and faculty members. The CEM at Purdue University started in 1979. Dr. Tom Iseley joined the CEM in 2020 and his position at Purdue (Beavers Heavy Construction Distinguished Fellow) is funded in part by the Beavers.