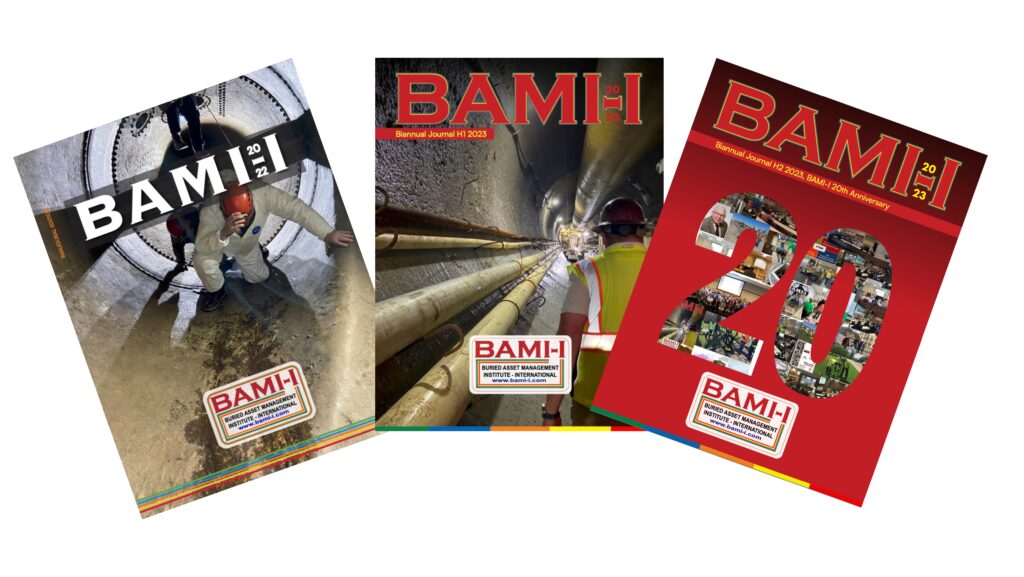 Are you a seasoned professional or an academic expert in the field of buried asset management? Do you have valuable insights, groundbreaking research, innovative solutions, or knowledge about advanced products and services to share with a wide audience of industry enthusiasts and scholars? If so, we invite you to contribute your expertise to our esteemed publication.
In the ever-evolving landscape of asset management, one area that often remains out of sight but never out of mind is the management of buried assets. These hidden infrastructure components play a vital role in our daily lives, ensuring the delivery of essential services such as clean water, wastewater treatment, energy distribution, and more. In BAMI-I Journal, we delve deep into the world of Buried Asset Management (BAM), shedding light on best practices, cutting-edge research, and innovative solutions that are transforming the way we manage what lies beneath.
A Blend of Industry and Academia BAMI-I is an industry non-profit organization supported and operated by the Purdue Underground Infrastructure Team (UIT) led by Dr. Tom Iseley, and we solicit articles from both industry and academia. Our commitment to providing our readers with reliable and credible content remains unwavering. To achieve this, we draw upon a rich tapestry of knowledge, bridging the gap between industry and academia. This fusion of practical experience and scholarly research ensures that the insights we offer are not only rooted in real-world applications but also backed by rigorous academic scrutiny.
Navigating the Terrain: Topics of Interest Buried Asset Management is a multifaceted discipline, encompassing a wide spectrum of topics and challenges. Our readership primarily comprises professionals and scholars in the water and wastewater sector, as well as other industries with buried assets. In BAMI-I Journal, we explore various aspects of buried asset management, including but not limited to:
Inventory, Location, and Mapping: Discover the latest techniques for accurately identifying and mapping buried assets, a critical foundation for effective management.
Buried Asset Condition Assessment and Evaluation: Learn how modern technology and methodologies are revolutionizing asset condition assessment, enabling proactive maintenance and repair.
Buried Asset Maintenance and Repairs: Explore best practices for maintaining and extending the lifespan of underground infrastructure.
Buried Asset Performance Monitoring: Gain insights into innovative monitoring solutions that provide real-time data on asset performance.
Buried Asset Renewal and Upgrades: Delve into strategies for asset renewal and upgrades, ensuring long-term sustainability.
Risk Management: Understand how to identify and mitigate risks associated with buried assets, safeguarding critical infrastructure.
Data Management, Analysis, and Technical Support: Uncover the power of data-driven decision-making in asset management, supported by cutting-edge technology.
Budget and Financial Management: Learn strategies for optimizing budgets and financial resources to maintain and improve buried assets.
Compliance and Regulatory Compliance: Stay updated on the latest regulations and compliance requirements affecting asset management.
Reporting and Communication: Explore effective ways to communicate asset management insights to stakeholders and the public.
Training and Education: Discover the importance of continuous learning and skill development in the field of BAM.
Market Research and Innovation: Stay at the forefront of industry trends and innovations that are shaping the future of asset management.
Sustainability and Environmental Impact: Examine the environmental implications of asset management decisions and sustainable practices.
Organizational Management: Gain insights into practical strategies for managing asset management programs within organizations.
Case Studies and Best Practice Sharing: Learn from real-world examples and success stories in the field of buried asset management.
And more.
These topics collectively represent the multifaceted world of Buried Asset Management, offering a comprehensive view of the challenges, solutions, and opportunities that lie beneath the surface.
Why Contribute? By sharing your expertise with our publication, you have the opportunity to:
Disseminate your knowledge to a wide and engaged readership.
Contribute to the advancement of buried asset management practices.
Foster collaboration between industry and academia.
Establish yourself as a thought leader in your field.
Enhance your professional and academic reputation.
How to Submit: To submit your manuscript or inquire further, please contact Wei Liao at [email protected]. We look forward to receiving your contributions and working together to promote excellence in buried asset management.
Join us in shaping the future of asset management and making a meaningful impact on industry practices, research, and the adoption of advanced products and services.
Sincerely,
BAMI-I/Purdue UIT